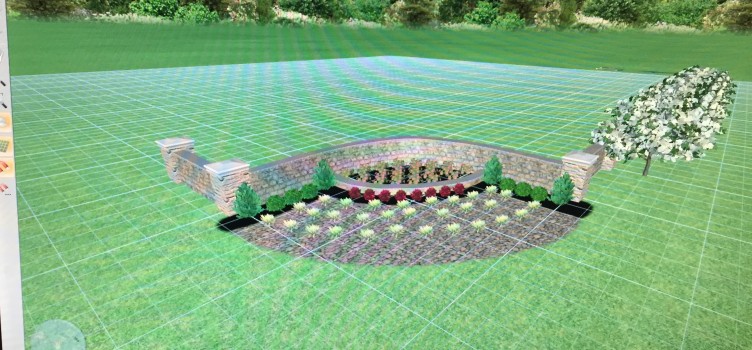 Landscape Design & Installation
A beautiful landscape that will enhance your homes' outdoor living spaces starts with a great design. Let the team of professional landscape designers at Bogart Landscape Contracting transform your property into a head-turning, eye-popping and highly sustainable landscape sure to make your customers take notice or your neighbors green with envy.
Led by owner and Western NY native Eric Bogart, our team creates designs using industry leading software to produce a clear picture of each design well in advance of installation. We meet one-on-one with the homeowners to discuss goals and objectives, and establish a budget. Next, our design team will conceptualize the project and draw up plans for review. Great design is little more than a great idea until it is brought to life by our expert team of landscape installers. Our project managers, equipment operators and experienced installation crews install your project efficiently and on budget. We have everything it takes to install your job flawlessly and on time.
When expectations are properly set, then subsequently met, customer satisfaction is at it's best. That is our goal with every job we do. Our designs strive to be:
A landscape that is appropriate for the site.
A landscape that is easily sustainable.
A landscape that is durable and able to withstand harsh winters.
A landscape that fits the customers budget.
Residential and Commercial Services
Our years of experience and quickly growing client portfolio in and around the Western New York market includes both Residential and Commercial clients in towns such as Amherst, Williamsville, Clarence, Orchard Park, Lewiston, NT, Tonawanda, Wheatfield and Lancaster.
Residential, Commercial & Industrial Projects
Computer Generated Previews and Design
Hardscape Installation
Lighting (and subsequent wiring)
Irrigation systems
Brick Pavers and Custom Edging
Outdoor Kitchens and Fire Pits
Landscape Removal and Installation
Get a Landscape Design and Installation Quote
If you are ready to get started, please contact us, or request an estimate right away!