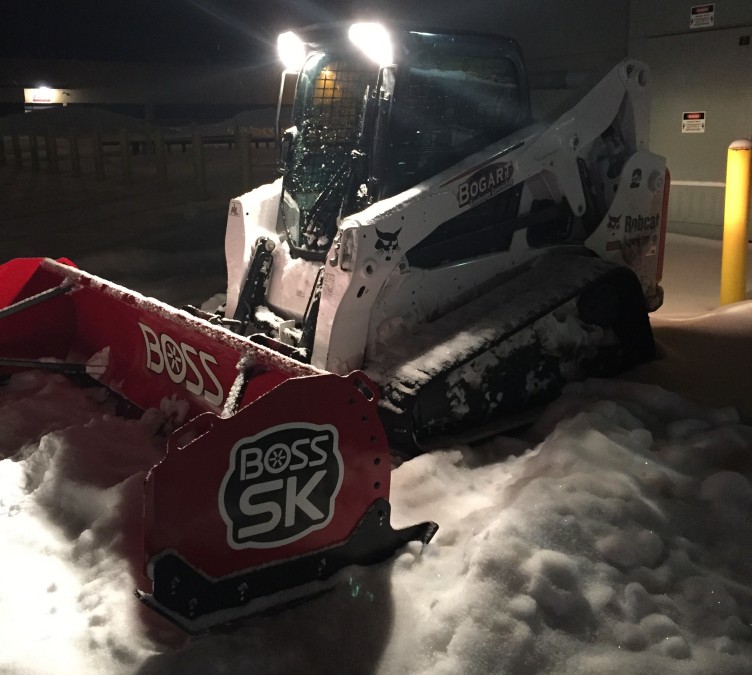 Snow Plowing and Removal
A Western New York Winter, while at first can be adorable and fun will eventually wear out the best of spirits... and snow blowers. Don't let the snow beat you up this winter! Go with Bogart Landscape Contractors, and we will ensure your driveway (and walkway and sidewalk) remain clear of snow accumulation and your entrance remains servicable.
Commercial Snow Plowing Services
Buffalo business' know two things - you dont want your employees out shoveling, and you want your customers to feel safe entering and walking through your parking lot and into your building. Trust Bogart Landscape Contracting with the cold weather work of keeping your parking lot clear and your front door accessible.
De-Icing
We also provide a variety of de-icing and salting services for businesses that want to minimize the risk of customer injury. As Western NY'ers, we are all fully aware of the dangers that come with a slip and fall as a result of ice. Even when the snow isn't falling, a combination of precipitation and cold temps may make your property very dangerous. This is where we come in!
Residential Homes, Apartment and Condominiums
Business Parks
Medical Offices
Commercial Developments
Multi-Unit Rental Properties
Industrial Parks
Home Owners Associations / HOA's
Senior Apartment Communities & Housing
... and anything else with a driveway or lot
Residential and Commercial Snow Plowing
Our trucks are on the road from November to Whenever, plow blades mounted and ready to dig all winter in Amherst, Williamsville, Clarence, Orchard Park, Lewiston, NT, Tonawanda, Wheatfield and Lancaster.
Get a Snow Removal Quote
If you are ready to get started, please contact us, or request an estimate right away!